Globalisation – is it steady evolution or social Formula One?
August 08 2014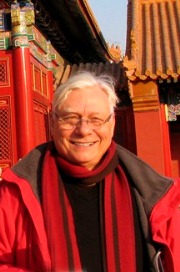 It's a flashpoint for protesters, a catch cry for modern businesses, the Holy Grail for brand managers and at the same time the death knell of local community and tradition – globalisation, the notion of global connection and homogeneity without the opt-out button seems very 21st century.
But according to the University of South Australia's first named Vice Chancellor's Professorial Fellow, Charles Lemert, globalisation has been bubbling away since a least the 1500s when the great explorers ventured forth to build new trade routes and claim new lands.
In a key public lecture Professor Charles Lemert will explore the consequences of globalisation, its rapid intensification and consider its impacts now and into the future.
A distinguished sociologist and Senior Fellow at the Center for Comparative Research at Yale University, Prof Lemert has been hailed as the leading social theorist working in the United States today.
"Globalisation is everywhere – it is all around us – but, paradoxically, is all but impossible to pin down," Prof Lemert says.
"While many celebrate globalisation and many more reject it, one aspect is clear, there is a widespread fear that it is changing everything and changing things too quickly.
"What I will be raising for public debate is this - in what ways might the political, cultural, and economic networks that bind the world together actually be growing too fast?
"In the era of Facebook and Twitter can virtually connect us with friends in any part of the world, are human bonds stronger or weaker as a result?
"I am considering how rapid trends towards globalisation may actually undermine family life, intimacy, neighbourhoods – indeed, the core of our human bonds.
"At the heart of many people's reservation about globalisation, especially in the aftermath of global terrorism and mass enforced migrations, are questions about how societies can function without local customs and traditional ways of doing things."
These challenging themes will be central to Prof Lemert's first public lecture as UniSA Professorial Fellow on Wednesday August 13 at City West campus in the Allen Scott auditorium.
The lecture is free and open to the public who can book online.
The honorary academic title of Vice Chancellor's Professorial Fellow is awarded to candidates who have achieved recognition for outstanding achievements in their chosen field or walk of life.
Media contact: Michèle Nardelli office: 08 8302 0966 mobile: 0418 823 673 email: Michele.nardelli@unisa.edu.au