Emptying the battle zone: Symposium explores Australia's longest war
November 14 2013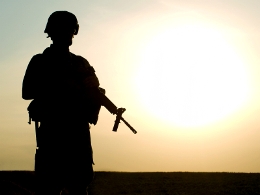 As Australian troops prepare to withdraw from Afghanistan, researchers from around the country will meet in Adelaide this week to evaluate Australia's involvement in Afghanistan and the subsequent impact of its military withdrawal.
Hosted by the University of South Australia's International Centre for Muslim and non-Muslim Understanding (MnM) and the Defence Science and Technology Organisation (DSTO), the symposium will explore a number of key issues including Australia's security and strategic goals in Afghanistan, the impact of Australia's withdrawal and the ongoing instability in the South Asia region.
A number of experts will deliver presentations, including keynote addresses by Professor William Maley, Director of the Asia Pacific College of Diplomacy at the Australian National University's (ANU) College of Asia and the Pacific, Professor Amin Saikal, Director of the Centre for Arab and Islamic Studies at the ANU, and His Excellency Mr Nasir Ahmad Andisha, Extraordinary and Plenipotentiary of the Islamic Republic of Afghanistan to the Commonwealth of Australia, New Zealand and the Republic of Fiji.
One of Australia's leading commentators on the conflict in Afghanistan, UniSA PhD candidate Raspal Khosa will also present, arguing that in the rush to remove military forces and civilian staff from Afghanistan, Australia and the wider international coalition risk losing hard won gains from the military campaign which has lasted more than a decade.
"The focus now is on 'rapidly emptying the battlespace' and an accelerated 'Afghanisation' of the counter-insurgency campaigns and retrograde operations, which up until now have been run by international coalition forces in conjunction with Afghan National Army," Mr Khosa says.
"It is important at this point to re-examine the strategic rationale for Australia's involvement in NATO's International Security Assistance Force (ISAF) mission.
"We need to consider the mechanisms and structural approaches that have emerged to manage such a complex and resource-intensive intervention and how this will continue to operate in Afghanistan after significant support from ISAF is withdrawn."
Pro Vice Chancellor for UniSA's Division of Education, Arts and Social Sciences, Professor Pal Ahluwalia, says the symposium brings together leaders from the defence industry and academia to create a dialogue that will inform the national research agenda post 2014.
"The conflict in Afghanistan is one of the most pressing issues of our time," Prof Ahluwalia says.
"For Australia, this has meant the longest ongoing military commitment and civil-military engagement we have ever been involved in. The impact of our withdrawal will be felt in Afghanistan – a country facing an enormous period of economic and political change - and at home, where we are not sheltered from the regional instability in South Asia.
"The symposium this week will combine operations analysis expertise with academic research to develop solutions for important issues such as our country's strategic military operations. It will contribute to shaping future directions for the national research community."
The symposium Australia and Afghanistan Post 2014: Securitisation and its impact will be held from November 14-15 at UniSA's City West campus.
Media Contact
Rosanna Galvin office (08) 8302 0578 mobile 0434 603 457 email rosanna.galvin@unisa.edu.au