Anzac Day media guide – a journalist's reality check
March 14 2014
Style guide now available as an eBook
There is more than one story to the Anzac legend – that's the take home message of the unique and comprehensive 2014 Anzac Day Media Style Guide. Written and compiled by UniSA PhD graduate, Dr Sharon Mascall-Dare, this year the guide is released nationally and internationally as an eBook for the first time.
Research on the guide began for Dr Mascall-Dare after she attended her first Anzac Day service in Singapore in 2007.
"As a British migrant who had recently become an Australian citizen, it was the first time I felt a connection to Australian identity," she says. "And as a working journalist I wanted to know more about the whole experience.
"I started to think about how journalists connect with Anzac Day and whether objectivity was possible. I became fascinated by the pivotal role played by the media in portraying Anzac Day and that is when I began research for a PhD on the subject at UniSA."
The style guide provides facts from a range of sources that challenge popular beliefs about the Anzac soldiers and their experiences. The notion that all Australian soldiers at Gallipoli were from Anglo-Saxon backgrounds is dispelled by research showing that some came from multicultural backgrounds.
"There were many young, fresh-faced Australian country boys at Gallipoli but there were also Chinese, German and Maltese Australian soldiers. Importantly, there were Indigenous Australians even though they were not, officially, allowed to enlist," says Dr Mascall-Dare.
"The Australian served alongside New Zealanders, including Maori troops; there was a Zion Mule Corps made up of Russian and Syrian Jews; there were French Moroccans and in the British contingent, there were soldiers from Newfoundland, India, Nepal and Ceylon. The Gallipoli story is their story too.
"When you examine the data, almost double the numbers of Turkish troops were killed at Gallipoli as the British and Allied forces combined."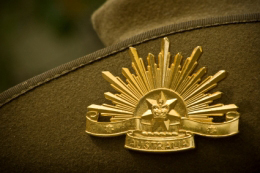 Dr Mascall-Dare says popular culture and mythology have contributed to a view of Australian soldiers that has lacked accuracy, portraying them as one- dimensional heroes.
"What that takes away from the real soldiers is their humanity," she says. "It also means we tend to see the history of Gallipoli and other battles in unsophisticated ways, in simple black and white terms, which diminishes what we can learn from the past. It distorts our understanding of our place in history.
"The Great War was a truly global tragedy. It decimated a generation worldwide and its legacy was vast and enduring."
The new eBook is a revised edition with many more inclusions and updates. There are new sections on social media and digital resources for journalists; there is new information on military protocols and traditions; there is more information on multicultural angles to the Anzac story.
In an entirely new Foreword to the guide, one of Australia's leading military social historians, Professor Peter Stanley says consciously or not, the media and governments and their agencies have created the emergence of Anzac Day as a brand, able to be manipulated and exploited.
"This alone makes the media's independence, clarity and accuracy more important than ever," Prof Stanley says.
"Dr Sharon Mascall-Dare's Anzac Day Media Style Guide represents a welcome attempt to pragmatically recognise the media's importance in presenting Anzac Day in contemporary Australia.
"It offers guidance on matters on which most reporters cannot expect to be expert, but offers authoritative advice on questions of history, ceremonial practice and protocol.
"Dr Mascall-Dare's guide is one, though perhaps the most influential, of the products of the University of South Australia's Narratives of War Research Group, demonstrating the value of marrying academic research to the needs of the community."
Dr Mascall-Dare, who graduated from UniSA in 2013, has been appointed an affiliate member of the University's Narratives of War Research Group, based at the School of Communication, International Studies and Languages. Three other affiliate members – Dr Paul Skrebels, Dr Nigel Starck and Dr Claire Woods – serve on the editorial advisory board of the guide.
The editorial advisory board also reflects collaboration with other universities as well as UniSA: it includes scholars from Monash, the University of Canberra and Canakkale University in Turkey in additional to representatives from the media, the Defence Reserves Support Council and the wider service community.
Complimentary copies of the Anzac Day Media Style Guide are available to accredited journalists who send their details to: anzacday.mediaguide@gmail.com.
It can also be purchased online as an eBook for $7.95 through Verandah Press.
Media contact: Michèle Nardelli office: 08 8302 0966 mobile: 0418 823 673 email: Michele.nardelli@unisa.edu.au