ARC funding is a boost for early career research
November 05 2014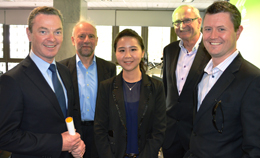 Education, health and water allocation are the winning areas of research for three early career researchers (ECR), who, along with six other University of South Australia researchers, are the latest recipients of Australian Research Council (ARC) project funding.
Funding for the research projects, was announced today by Federal Higher Education Minister, Christopher Pyne, at Victoria Square, Adelaide.
UniSA Vice Chancellor, Professor David Lloyd, praised the researchers and highlighted the value of their projects, which are expected to have positive application in a range of fields including biomedicine, education, water allocation and nanotechnology.
"It is particularly encouraging that three of our early career researchers will be given support to advance projects that will benefit the areas of health, the environment and education, as these are areas of such importance in society," Prof Lloyd says.
"Our success and growth as a University is aligned to the strength and support afforded to our early career researchers.
"It is a highly competitive research environment and to succeed in securing this level of funding is testament to the skill and dedication of our researchers and the quality of their research.
"The investment into these nine projects is recognition of the world class quality of UniSA research and the ability that research has to add positive value to our society."
Of the early career researchers who have been awarded funding, Dr Chia-Chi Chien will receive $375,000 to develop advanced in vitro tumour models aimed at examining the delivery and transport of diagnostic and therapeutic nanomedicine agents in tumour tissues.
Dr Adam Loch will use $374,000 for research designed to help identify barriers to water reallocation efforts and to suggest priority areas for policy innovation to meet supply and demand challenges. This project aims to develop a comprehensive transaction cost framework for the Murray-Darling Basin that can be used to capture and measure transaction costs related to water policy.
Dr Andrew Peterson will receive $336,027 for a project that will see qualitative research methods being used to determine teachers' work and students' experiences, to provide the first detailed account of educating students for global citizenship in Australian schools. The findings are expected to contribute to educational policy and practice, both in Australia and internationally.
Grant funding was also awarded to these researchers for their Discovery Projects:
Professor Alexander Grant: Awarded: $435,500: Project title: Coding for Distributed Storage: Fundamental Limits and Code Designs
Professor Hans Griesser: Awarded: $355,500: Project title: Combating fungal biofilm growth on surfaces
Associate Professor Susan Luckman: Awarded: $315,100: Project title: Promoting the making self in the creative micro-economy
Associate Professor Krasimir Vasilev: Awarded: $329,900: Project title: Surface Engineered Biomaterials to Control Inflammation
Professor Nicholas Voelcker: Awarded $363,000: Project title: Closing the data gap: High throughput screening of nanoparticle toxicity
A Linkage Infrastructure grant totalling $290,000 is also being awarded to Professor Namita Choudhury, of the Ian Wark Research Institute, whose proposal is to establish a South Australian facility that will allow researchers to visualise and analyse structure at nanoscale resolutions.
The new SA collaborative facility would be designed to meet the demands of a large number of innovative projects conducted by multidisciplinary groups of researchers.
Media contact: Will Venn office (08) 8302 0096 email will.venn@unisa.edu.au