Knee osteoarthritis research to head-off disability and health decline
December 12 2018
It is one of the most bothersome and debilitating problems – knee osteoarthritis – and it's painful, often life-limiting, and linked to increases in obesity and poor heart health.
But a two-state study led by the University of South Australia and including researchers at the University of Melbourne, is trialling new physiotherapy treatments that may make a difference for the one in two Australians over 65 who suffer from osteoarthritis in their knees.
With almost $1.2m in funding support from the NHMRC, the study will compare physiotherapy treatments to see which proves most effective in improving health.
Lead researcher Associate Professor Tasha Stanton says it is not commonly known, but knee osteoarthritis costs Australia $24 billion a year in health expenses.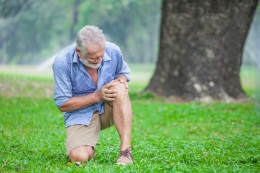 "It is projected to be the fourth biggest cause of disability by 2020 and knee osteoarthritis has led to a 77 per cent increase in knee-replacement surgery in just over 10 years.
"As the population ages and as we increasingly lead more sedentary lives, it is vital that we find ways to maintain healthy joints and healthy habits.
"Through this study we hope to gain the evidence for a best-practice treatment regime for knee osteoarthritis that can be adopted around the world."
The four-year research project brings together world experts in osteoarthritis and education – including Professors Kim Bennell (Melbourne Uni), Lorimer Moseley and Catherine Hill as well as experts in physical activity – Associate Professors Matthew Smuck and Christy Tompkins-Lane (Stanford) - and health costs analyst, Prof Julie Ratcliffe.
Assoc Prof Stanton says the findings will have direct and immediate relevance to Australia and could support global innovation in the treatment of knee osteoarthritis.
"We know about the link between obesity and cardiovascular disease and we know that the rates of obesity are 54 per cent higher for people with osteoarthritis, so whatever we can do to improve their mobility and decrease their pain also has the potential to improve their life outcomes."
Media contact: Michèle Nardelli mobile 0418 823 673 email michele.nardelli@unisa.edu.au