UniSA graduates hired for blockbusters
November 10 2017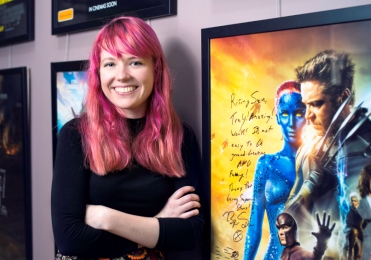 Rising Sun Pictures, the Adelaide-based visual effects company that contributed over 170 shots to the new blockbuster film by Marvel Thor: Ragnarok, continue to unite with UniSA to deliver industry specific education and training to local students.
UniSA and RSP cemented their relationship in 2015 and since 2016, the University has been offering Graduate Certificate programs in Compositing and Tracking and Dynamic Effects and Lighting, which provides students with industry mentoring and placements at RSP.
The programs have amassed an impressive track record for helping students move from the classroom to industry jobs. Graduates of RSP education program have been hired for entry-level roles and worked on a variety of blockbuster films.
A recent graduate of UniSA's Graduate Certificate in Compositing and Tracking, Rebecca Bogert is one of the new recruits at RSP, and says the learning partnership with RSP is fantastic.
"It's a wonderful feeling being able to use the knowledge gained during my education and apply it to real projects with real deadlines, and knowing that I contributed towards a finished product," Bogert says.

"I am really excited about the release of Thor:Ragnarok. Myself and my colleagues at RSP, will be able to see how all of our hard work has be integrated into the final film and we can say 'I did that'."
Program Director for the degree programs at UniSA, Dr Josh McCarthy says UniSA's partnership with RSP provides our students with unparalleled access to the visual effects industry.
"RSP is globally recognised for producing outstanding visual effects, and our students have the opportunity to study alongside RSP artists from the second year of our undergraduate Media Arts degree, all the way through to our postgraduate offerings," Dr McCarthy says.
"More than 30 of our graduates from these industry-connected programs are now working in the visual effects industry across Australia."
UniSA will be hosting its annual VFX Industry Night on Thursday December 7 in the Playhouse Theatre at Magill Campus.
The free event will include guest speakers from award winning visual effects companies Rising Sun Pictures (Thor: Ragnarok, Alien: Covenant, Logan), Framestore (Blade Runner 2049, Kingsman: The Golden Circle, Guardians of the Galaxy Volume 2) and Industrial Light and Magic (The Last Jedi, Solo: A Star Wars Story, Valerian and the City of a Thousand Planets).
Tickets for the event can be booked at www.unisavfx.eventbrite.com.au
Media contact: Michèle Nardelli mobile 0418 823 673 email michele.nardelli@unisa.edu.au