UniSA energy expert awarded Premier's Research Fellowship
September 21 2017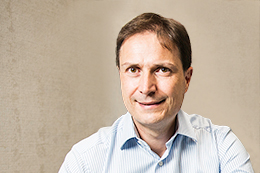 The University of South Australia's Professor Frank Bruno has been awarded a Research Fellowship under the Premier's Research and Industry Fund.
The scheme was established to support the state's research sector to develop new ideas and cutting-edge products, services and technologies for the community.
The Research Fellowship will support his position as South Australian Chair in Energy based at UniSA's Future Industries Institute.
In this important role he will enhance the state's research capabilities and facilitate further uptake of renewable energy by exploring novel technologies to store energy for cooling and heating, in addition to the adoption of innovative energy-efficient systems.
A research professor at UniSA's Barbara Hardy Institute and leader of its Thermal Energy Research Group, Prof Bruno has secured more than $22 million in funding across his research career for local and international projects that are solutions-focussed.
Today his research, consultancy and teaching focuses on thermal storage, low energy buildings, air conditioning, refrigeration and solar thermal and understanding more about phase change material (PCM) for thermal storage for refrigeration and concentrating solar power.
Earlier this year, Professor Bruno and his team successfully secured $1 million in Commonwealth funding for research and development, with partners in India, into phase change materials being used to reduce energy costs in refrigeration and reduce the spoilage rates of milk.
In 2015, he was awarded the prestigious Eureka Prize for the development of patented thermal storage systems with phase change material and in 2016 he won the Sir George Julius Medal for research demonstrating how phase change materials can be used to reduce energy for cooling buildings.
Prof Bruno says he is delighted to be awarded a Research Fellowship and excited to be leading research that will support the development of a clean energy future for South Australian and beyond.

"This is an acknowledgement of the important role of leading research and education in new energy technologies that will be the foundation for a decarbonised energy future," Prof Bruno says.

"South Australia has been a trailblazer in working towards the development of low carbon technologies across the whole community, from energy generation, to its use in buildings, housing and industry and I am looking forward to supporting local ambitions to develop world-leading innovations."

Media contact: Michèle Nardelli mobile 0418 823 673 email michele.nardelli@unisa.edu.au