UniSA appoints Matt Opie to steer defence industry engagement
November 06 2017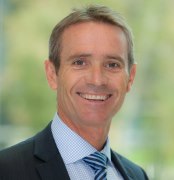 In a flagship 'expert' role created to steer engagement with the state's burgeoning defence industry sector across research and education, the University of South Australia has appointed defence industry executive and former Army Officer, Matt Opie, as its new Director, Defence.
A specialist in defence, with his most recent position as Head of Industry Engagement for Saab Australia, Opie has experience across a range of disciplines, including strategic management and business development.
He has also worked on projects around the world, from Australia and the Asia-Pacific to the United States and Europe.
Announcing the appointment, UniSA Deputy Vice Chancellor: Research, Professor Tanya Monro says Opie will bring both high calibre skills to the new role and a powerful knowledge of what the defence industry needs from universities.
"Matt's appointment signals the University's strategic intention to provide the most effective and supportive collaboration to support defence industry development, growth and leadership in South Australia," Prof Monro says.
"The breadth of his experience in defence industry, coupled with an intimate knowledge of the Australian Defence Force gained from 15 years' service in the Australian Army, will help to ensure UniSA brings the right elements to the table to work with the defence industry.
"His long career working in project management and developing teams will be invaluable in ensuring the University strengthens its multidisciplinary, cross-institutional and industry-collaborative approach to research and engagement, underpinning defence industry growth in the state and the nation."
Opie will work across both research and education at the university to develop research and development alliances, defence industry partnerships and support the development of education projects that offer a graduate pipeline for the sector.
Excited by the challenge, Opie says UniSA is taking a strategic approach and showing real insight to create a role that will work closely with the defence industry.
"I'll be dedicated to improving the way university research and industry collaboration can develop and deliver what the Australian Defence Force needs," Opie says.
"That involves a clear understanding what end-users need – from the kinds of graduates industry requires to complete and improve defence industry projects, to the types of research projects that will truly inform advancement in defence capability and deliver solutions."
Opie says he is delighted to be joining a university with such a clear spirit of enterprise and engagement.
"UniSA is approaching the opportunities presented by the growth in the defence industry with energy and I see my new role as a vital nexus between industry, academia and government," he says.
Opie will take up his position at UniSA in December.
Media contact: Michèle Nardelli mobile 0418 823 673 email michele.nardelli@unisa.edu.au