UniSA Online to provide Education 'On Demand' with unrivalled student supports
September 04 2017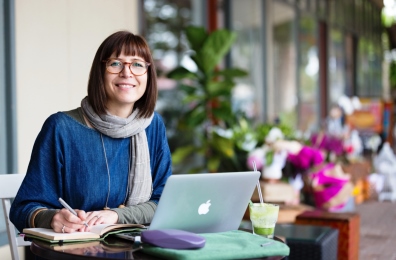 In the past 10 years, more than 1.5 million Australians have chosen to study their degree qualifications online.
And while the trend to online learning is on the rise, students increasingly want more than an on-campus course shoe-horned into an uninspired and unsatisfying online format.

As the University of South Australia launches UniSA Online – a suite of 11 new career-focused degrees open for online applications from today – it is delivering a new and improved student experience, informed by the latest international research into online learning.
Each of UniSA Online's new bachelor degree programs is designed specifically for online education and will be rolled out with a suite of unrivalled dedicated student supports to enable successful learning.
Director of UniSA's Teaching Innovation Unit and founding executive member of the Society for Learning Analytics Research, Professor Shane Dawson, says personalisation in online learning has come of age.
"There are a number of new tools that are improving the online learning experience," Prof Dawson says.
"At the heart of our innovation are technologies that allow us to give students personalised support to be successful.
"These are the kinds of innovations that we are adapting for UniSA Online, along with technologies that allow students to interact with video presentations, discuss learning and ideas with fellow students all around Australia, as well as accessing online tutors and student advisers all in real time across any device.
"Most importantly, we have developed each and every one of these degrees specifically for online learning – at every point, considering how we can teach the subject to the highest standards in that environment, while maintaining a focus on developing the skills employers are looking for today."
UniSA Vice Chancellor Professor David Lloyd says UniSA Online will deliver student support at its most advanced level.
"We have been very conscious of the fact that many of our online students will be balancing the demands of work and family while they complete their studies," Prof Lloyd says.
"To address this we have created a new study environment that is on-demand – with tutors and student advisors available seven days a week for extended hours and with a 24/7 IT support service.
"The importance of a quality student experience is at the heart of the design of UniSA Online, because we believe that distance and time should be no barrier to accessing and completing your education.
"UniSA has a long and proud history of reaching out and bridging barriers to educational access, dating back to the 1990s when we were one of the largest providers of distance education in Australia.
"A few generations on and UniSA Online is a next step in that evolution.
"As Australia's University of Enterprise and a university that prizes its close relationships with business, industry and the professions, we are reflecting that relevance in the design of all of the UniSA online degrees so that case studies and learning scenarios reflect real work environments."
UniSA Online is offering 11 new Bachelor degrees in key areas including business, construction, health, communications and media, social services and information technology with further disciplines on the horizon.
A full list of the offerings and more information about UniSA Online is available at www.unisaonline.edu.au.
Media contact: Michèle Nardelli mobile 0418 823 673 email michele.nardelli@unisa.edu.au