UniSA Online Study Grants support students to cross educational barriers
September 04 2017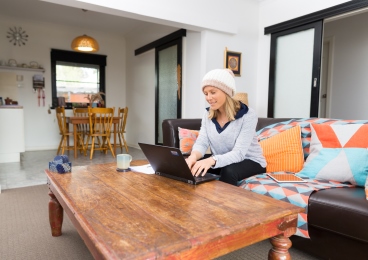 Providing more opportunities for students from regional and remote communities and those who are economically disadvantaged, the University of South Australia is making up to $500,000 in study grants available for students enrolling in any of the 11 new degrees available through UniSA Online.
Launched this week, UniSA Online is offering a suite of 11 new career-focused degrees – in business, health, construction, information technology, psychology and sociology and communications and media which have all been designed specifically for the online environment.
UniSA Vice Chancellor Professor David Lloyd says one of the distinct advantages of online study has always been that it is flexible and accessible, even to those isolated by distance or economic disadvantage.
"However, for some people, affording the extra technology or other equipment or Internet access that they might need to get their study underway, is not always possible," Prof Lloyd says.
"With that in mind, we are making $1000 study grants available to rural and remote students and those with economic barriers to education who enrol in one of our online programs."
Commencing in 2018, up to 500 UniSA Online Study Grants will be available to students across Australia who live in rural or remote areas or are financially disadvantaged. To be eligible for the grants students must be enrolled with UniSA Online and studying at least two subjects of a Bachelor's degree in their first study period.
Prof Lloyd says the unique and specialised development of UniSA Online degrees is a huge plus for students who want to improve their employment opportunities or change their career path.
"As Australia's University of Enterprise and a university that prizes its close relationships with business, industry and the professions, we are reflecting that relevance in the design of all UniSA Online degrees so that case studies and learning scenarios reflect real work environments," Prof Lloyd says.
"We have developed each and every one of these degrees specifically for online learning – at every point, considering how we can teach the subject to the highest standards in an online environment, while maintaining a focus on developing the skills employers are looking for today.
"We're also conscious of the fact that many of our online students will be balancing the demands of work and family while they complete their studies.
"That is why we have created a new study environment that is on demand – with tutors and student advisors available seven days a week for extended hours and a 24/7 IT support service.
"With the extra support we are providing through the Study Grants and the excellence and convenience of UniSA Online degrees, I believe we will be opening up important opportunities for people around the country."
A full list of the offerings and more information about UniSA Online Study Grants is available at unisaonline.edu.au.

Media contact: Michèle Nardelli mobile 0418 823 673 email michele.nardelli@unisa.edu.au