Pioneering Aboriginal educator Alice Rigney remembered for her courage and wisdom
May 17 2017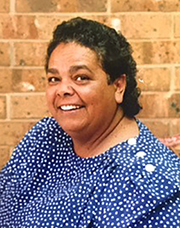 The University of South Australia will fly flags at half-mast to honour the life of graduate and Honorary Doctor of the University, Alice Rigney, who died last week.
UniSA Vice Chancellor Professor David Lloyd says Alice Rigney was a woman who had pursued education not only with a personal passion, but also with a deep commitment to its power to transform lives and change destinies.
"After a lifelong dedication to teaching – a career that took her from teacher's aide in 1967, to school principal by 1997 when she retired – Alice continued to contribute her wisdom and drive with enormous generosity," Prof Lloyd says.
"Post teaching, she took on significant roles in the South Australia's Guardianship Board and Aboriginal Education, Training and Advisory Committee, and nationally, as Ambassador for the Commonwealth Department of Education, Science & Training's National Indigenous English Literacy and Numeracy Strategy, but she still made time to return to our School of Education regularly, an inspiring guest at the School's Reconciliation morning teas.
"An Elder of the Kaurna and Nurungga Aboriginal Nations, in following her dream to get and give education, Alice blazed a path for others to follow.
"She was Australia's first female Aboriginal School Principal and first Aboriginal person to join the professional ranks of the South Australian Department of Education.
"She taught over 5000 Aboriginal students in her lifetime and mentored and inspired many more.
"She will be deeply missed by her large and loving family and by all whose lives she touched."
A graduate of UniSA's De Lissa Institute, Rigney's pioneering contribution to Aboriginal education was acknowledged by the University in 1998, when she was awarded an Honorary Doctorate.
Rigney's three children have all gone on to contribute to society – Prof Lester-Irabinna Rigney is a Professor of Education at UniSA, Eileen Wanganeen followed her mother into teaching and education leadership and Tracey Ritchie works as a principal Aboriginal consultant at the Department of Education and Child Development.
Today, her granddaughter Tarni Rigney, the third generation of Alice's family, is studying to be an early childhood teacher at UniSA and her grandson, Trevor Ritchie is a lecturer in Aboriginal Allied Health at the University.
Media contact: Michèle Nardelli mobile 0418 823 673 email michele.nardelli@unisa.edu.au