UniSA honours a global champion of experiential science communication
December 19 2017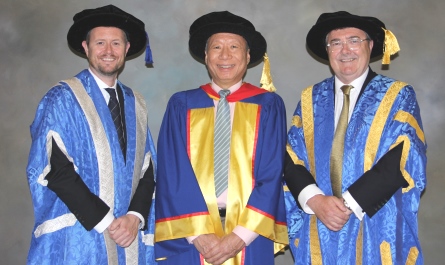 The man whose research helped to bring us the open source, WorldWide Telescope and who has championed science communication throughout his long career in technology development, Curtis Wong, will receive an honorary doctorate from the University of South Australia at its December 20 graduations.
A principal researcher at the Microsoft Redmond Research Laboratory, Wong is passionate about science communication and is keenly focused on innovation in data visualization, interactive media, and natural user interaction.
He completed a BA in Ecosystems and an MBA at the University of California in the 1970s, before embarking on a career in technology consulting, first with KPMG, where he created SPANS, a software-based knowledge system for organisation management structure modelling for long term strategy, mergers and acquisitions.
Wong worked for key technology development businesses on strategic organisational modelling systems for major companies such as GM and the divestiture of Pacific Bell from ATT before joining Microsoft.
UniSA Vice Chancellor Professor David Lloyd says Wong has been dedicated to the development of new technologies as platforms for more tangible, accessible knowledge.
"Curtis has focussed his skills and creativity in software innovation and development on projects that help us to understand science, to picture data, and to give anyone with a computer access to some of man's greatest cultural and scientific endeavours," Prof Lloyd says.
"Keen to ensure the widest possible access to knowledge, he has worked with public broadcasters across his career, serving on advisory boards for PBS Online, PBS KIDS, WGBH and the Corporation for Public Broadcasting.
"Curtis was a pioneer at the Voyager Company in the interactive media technology that created the first eBooks, interactive laserdiscs for education, and produced the first multimedia CD-ROM's for Windows such as Multimedia Beethoven and the first children's CD-ROM: Amanda Stories.
"Later he worked to bring the paintings of Van Gough and other masters into the homes of millions with the development of ArtMuseum.net which was the first broadband 3D virtual museum on the Web – a gallery at our desktops.
"Working closely with public broadcaster WGBH he lead the vision for the production of Commanding Heights: the Battle for the Global Economy, which won a British Academy award for online learning in 2002.
"All of his work is linked to creating better ways to learn and through that learning, to bringing the world closer together in understanding.
"It is a very great pleasure to welcome Curtis to the University of South Australia community."
Among many honorary positions, Wong is an adviser to the Getty Conservation Institute, a Trustee of the Seattle Art Museum and Trustee of KCTS9, Seattle's public broadcasting station, an Honorary Professor of Histories and Humanities at Trinity College Dublin.
News editors please note:
Almost 840 degrees will be conferred at UniSA's December graduations across two ceremonies tomorrow at the Adelaide Convention Centre.
The Occasional speaker at the morning ceremony is Anthony Finkelstein, Professor of Software Systems Engineering, University College London and The Alan Turing Institute.
Curtis Wong will be awarded his honorary doctorate at the 3 pm ceremony.

Media contact: Michèle Nardelli mobile 0418 823 673 email michele.nardelli@unisa.edu.au