Local language education will help close the gap
February 21 2017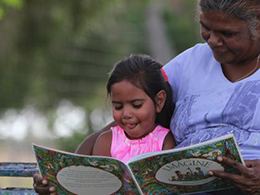 Australia is a linguistically diverse nation, with more than 250 languages spoken, yet students certainly don't have multilingualism reinforced throughout their school years and many Indigenous students can't even learn in their mother tongue.
The release of the Prime Minister's 2017 Closing the Gap report last week showed that yet again, despite vast expenditure, education policies are continuing to fail Indigenous children.
Every year since 1999, UNESCO has celebrated International Mother-Language Day (IMLD) on the 21st of February – a day chosen in honour of students in Dhaka killed in 1952 during a demonstration after they had asked to be allowed to study through their mother tongue, Bengali.
Today the IMLD theme is 'Towards Sustainable Futures through Multilingual Education' and University of South Australia Associate Professor of Applied Linguistics, Kathleen Heugh, says that with UNESCO's history of more than 65 years of multi-country studies on the education of vulnerable and marginalised children of the world, Australia has some important lessons to learn.
"Sustainable development for marginalised communities is dependent upon education in a language that students know and understand - the 'mother tongue' or the local language – and meaningful access to at least one language of wider communication, such as English," Assoc Prof Heugh says.
"We know through a compelling body of evidence collected through much of the 20th and early 21st centuries that children from vulnerable and remote contexts will only develop strong foundations in literacy and numeracy in the language or languages they use on a daily basis.
"Local languages, especially minority languages, carry long histories of Indigenous knowledge, systems of belief, associations with living and ancestral beings and attachment to place.
"It has long been recognised that meaningful education builds on the knowledge that children bring into the classroom so for children in remote or marginalised communities, only local languages can serve this purpose.
"English can only bring educational value if it builds on learners' knowledge systems alongside the local language as it is used in the community."
Literacy and numeracy skills are vital for students to succeed at school and move into employment and one of the targets of Closing the Gap has been to halve the gap for Indigenous children in reading, writing and numeracy by 2018.
The 2017 Closing the Gap Report showed that across the eight areas (reading and numeracy for Years 3, 5, 7 and 9), the proportion of Indigenous students achieving national minimum standards in NAPLAN is only on track in Year 9 numeracy.
Indigenous 15 year-olds are also, on average, about two-and-a-third years behind non-Indigenous 15 year-olds in reading literacy and mathematical literacy and Indigenous boys are trailing their female peers in performance at school.
"Whereas governments in Africa and across SE Asia, and even in some Pacific contexts, now recognise and accept that children, especially vulnerable children, require education that builds on the child's home language or the linguistic repertoire of the local community, this realisation does not appear to have sunk in here in Australia," Assoc Prof Heugh says.
"There is no credible research to be found anywhere in the world that can demonstrate that trying to teach marginalised children through a language that they do not use in their local community, and that they do not understand, will be successful.
"It does not work and it results in children either refusing to attend school or a situation in which children do not meet academic minimum standards such as those we continue to see in Indigenous education in this country."
According to the UNESCO 2016 Global Education Monitoring Report the most effective language education policy involves the use of a child's first or home language in the early years of schooling, alongside the introduction of a second one, both as subject and, later as a parallel or dual medium of instruction.
Citing the multi-country research conducted by Assoc Prof Heugh, the Report indicates that implementation of such a policy has been found to improve performance in the second language as well as in other subjects and recent studies also highlight the importance of sustained use of the first or home language as a medium of instruction for at least six years of schooling – increasing to eight years in resource-poor contexts – such as we find in many Indigenous contexts.
"While there have been more than 100 years of research, 65 years of which involve large-scale, multi-country studies, there is no credible evidence to indicate that Indigenous children can learn through English only or English mainly if they come from contexts of vulnerability or marginalisation," Assoc Prof Heugh says.
"Only a foolhardy government would continue to finance a system that has zero potential to succeed.
"With the recent Closing the Gap Report showing no closure at all – however much money is spent – the IMLD is a reminder to the international community that mother languages are essential starting points for education and that systematic bilingual or multilingual programs (for most countries of the world) are indispensable.
"It is also a reminder to Australian policy-makers that children can only learn what they understand and if they don't understand they will find little reason to remain in the classroom."
Media contact: Katrina McLachlan mobile: +61 414972537 email: katrina.mclachlan@unisa.edu.au
Image courtesy the Commonwealth of Australia, Department of the Prime Minister and Cabinet, Closing the Gap Prime Minister's Report 2017.