Liveable cities – it's all in the planning
November 07 2017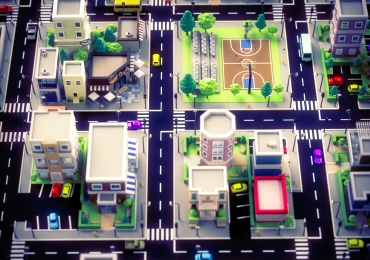 You might wonder why we mark World Town Planning Day (November 8 2017), but according to UniSA's Dr Johannes Pieters, great urban design is something worth celebrating.
Program Director for the Master of Urban and Regional Planning and the Bachelor of Urban and Regional Planning at UniSA, Dr Pieters believes our urban planning history says as much about the evolution of civil societies as does everyday politics.
And he says planning and politics have always gone hand-in-hand in the creation of great cities.
"People have lived in cities for thousands of years and the responsibility for deciding how land should be used to build a safe, settlement and feed the population has always been political but politics alone isn't enough to plan great cities," Dr Pieters says.

"At its peak around 100 AD, Rome, the centre of a global empire, had more a million residents - but it also had terrible traffic jams.
"We all know Adelaide, like Rome (both planned with a grid model), was a planned city and we celebrate the colony's surveyor Colonial William Light, but few people have heard of Charles Reade, who was arguably far more influential."

A real fan of Light's design for Adelaide, Reade was an advocate of the Garden City Movement - a rational design movement founded by Sir Ebenezer Howard in London at the beginning of the 20th Century that promoted affordable housing and healthy living conditions for the working class with the aim of reducing the alienation of humans and society from nature.
Reade was appointed as a town planning adviser by the South Australian Government in 1916 and later became its first official Town Planner in 1918 and the architect of the leafy, curved streets of Colonel Light Gardens.
"The influence of town planners such as Light and Reade have continued well beyond their lifetime, impacting the amenability and social tone of Adelaide," Pieters says.
"Today we are influenced by new ideas about mixed-use development, urban consolidation, transit- oriented development, new urbanism and the idea of resilient cities – a way of designing cities so that they can withstand the pressures of natural disasters.
"For a profession that has often suffered a dull image, young town planners are actually in for a career full of design challenges and exciting opportunities to make a difference, not only to how cities look and function but to the quality of life for those who live in them.
"One very good reason to celebrate World Town Planning Day is to raise awareness of just how important these planning issues are and to encourage young people to engage in the profession and in their neighbourhoods as communities meet a range of challenges from population growth and changes to age demographics, right through to the impacts of climate change."
This year on WTP Day UniSA will open a new Urban and Regional Planning Space at the City West campus showcasing the work of its students and in particular the projects that third year students are involved in during their placements with industry.
Industry placements occur in local, State and in some cases non-government sector organisations.
This year's participating organisations include the Departments of Environment, Water and Natural Resources, Planning, Transport & Infrastructure, Renewal SA, the City Councils of Adelaide, Charles Sturt, Marion, Mt Barker, Norwood Payneham and St Peters, Onkaparinga, Prospect, Salisbury, Unley, AECOM, Jensen PLUS, MasterPlan SA, and Town Planning HQ.
UniSA students get placement experience right across the metropolitan area and in regional towns exposing them to real world of planning and urban design issues.
The 2017 cohort has been involved in the early stages of the roll out of the new South Australian planning system introduced under the Planning, Development and Infrastructure Act of 2016 http://www.saplanningportal.sa.gov.au/ and the accompanying update to the 30 Year Plan for metropolitan Adelaide http://livingadelaide.sa.gov.au/.
For more information about UniSA World Town Planning Day event and a chance to meet Town Planning field-placement students on location please call 0418814885.
Media contact: Michèle Nardelli mobile 0418 823 673 email michele.nardelli@unisa.edu.au