Hannah's novel approach to target diabetic wounds wins 3MT grand final
August 28 2017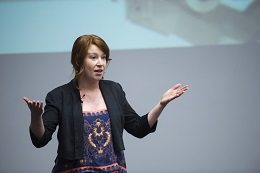 A novel approach to tackle the complications of diabetes – the biggest health challenge confronting Australia – has won UniSA student Hannah Thomas this year's Three Minute Thesis competition.
The PhD candidate in the School of Pharmacy and Medical Sciences took out both the overall prize as well as the People's Choice award on 24 August, pitching her research which focuses on key cells in the healing process of diabetic wounds.
An estimated 1.7 million Australians have diabetes, and that number is increasing by around 100,000 each year due to a combination of factors, costing the country an estimated $14.6 billion annually.
Hannah's presentation focused on the crucial role that vascular muscle cells known as pericytes play in diabetic wound healing.
"Every three minutes, nine diabetics will lose a limb due to complications with wounds on their legs and feet," Hannah told the audience.
"There appears to be a link between the absence of a key cell type – pericytes – and the failure of diabetic wounds to heal.
"Under normal, healthy circumstances these cells help to build blood vessels and to regulate the body's inflammatory responses to combat infection. In diabetics, pericytes are missing and both of these processes are compromised – damaged blood vessels can't be rebuilt and the inflammatory response is heightened and prolonged," Hannah says.
Hannah is working on therapies to help restore these pericytes in diabetics so that wounds heal a lot faster.
Hannah will now go on to compete in the Asia-Pacific 3MT Grand Final hosted by the University of Queensland on 29 September.
"Preparing for the 3MT has been an eye opening and rewarding experience for me," Hannah said after her win. "It is becoming increasingly important for us as researchers to be able to clearly and accurately articulate our research not only to other researchers, but also to a broader audience which has the potential to include industry, collaborators and, most importantly, members of the public who may be directly impacted by the results of our work.
"This competition has also provided me with the opportunity to tackle head-on – in a supportive and topical environment – some of the public speaking nerves and difficulties I have always experienced, fostering a skill set that I know will prove invaluable in a research career."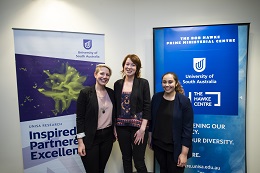 Second prize went to Alex Wade from the School of Health Sciences, who discussed her research on the link between a Mediterranean diet and a lower risk of dementia. Charlotte Gupta, a PhD candidate in the School of Psychology, Social Work and Social Policy, took out third prize for her presentation explaining why a midnight snack helps night workers stay alert, improving their concentration levels.
The five other finalists were:
Xi Yu (School of Commerce): The Good, The Bad and The Ugly Academics;
Victoria Fielding (School of Communication, International Studies and Language): Political Narratives: competing for media attention in an industrial dispute;
Roya Rudd (School of Engineering): Tiny particles pack an optical punch;
Ava Huang (School of Marketing): Understanding how online distribution impacts luxury brands;
Farzana Kastury (School of Natural and Built Environments): Lead lock in.
Dean of Graduate Studies, Professor Pat Buckley, paid tribute to all eight finalists, congratulating them on the quality of their research and their outstanding presentations.
"Distilling years of research into just three minutes is a very difficult task but communicating this research to an audience beyond the academic world is essential. That's why this competition is so valuable for students. It builds important career skills and can lead to some exciting opportunities for research collaborations. The benefits last well beyond the competition," she says.
Media contact: Candy Gibson mobile 0434 605 142 email candy.gibson@unisa.edu.au
Visit the UniSA Media Centre Follow us on @UniSAnewsroom and www.facebook.com/UniSANewsroom