Feeling blue in Kalangadoo - will you get the help you need?
August 22 2017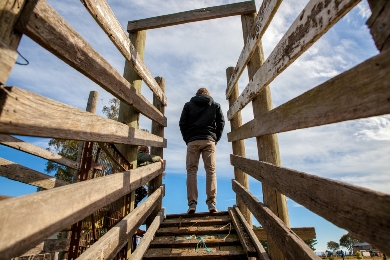 The University of South Australia's Department of Rural Health is hoping to get stronger participation from Limestone Coast and South East residents for its state wide survey of rural and regional health.
As one of the largest health surveys ever undertaken in rural and regional SA, researchers are already uncovering some interesting findings.
The team led by Dr Matthew Leach and Associate Professor Martin Jones will be in Mt Gambier on August 22 for a public seminar to share broad-brush results so far and encourage further participation from people in the region.
Associate Professor Martin Jones, says the survey will help to map where and what service gaps there are and inform future planning to ensure South Australians living in rural South Australia have better access to the health care and services they need.
"One clear example is accessing help for depression and anxiety," Associate Professor Jones says.
"We know from other research that accessing services for depression and anxiety in rural Australia can be challenging"
"We are hoping to redress those sorts of gaps by building an understanding of the health needs of rural South Australian communities and then looking at how we would develop the best workforce and infrastructure to meet those needs."
Associate Professor Jones says the mismatch between specific health needs and the services available is not confined to metal health supports and applies to other health conditions.
"As the University of South Australia Department of Rural Health, we are already finding opportunities to support the future rural health workforce by increasing our support to nursing and allied health students to complete their clinical training in rural South Australia. We're relying on more people to participate in the survey so that we can get the most accurate picture possible of regional health needs to help us understand which nursing and health care students we need to support," he says.
More information about the survey, and how people can contribute to the project, will be available at the public seminar, and online.
The seminar - Health care in regional South Australia - Have we got it right? - will be held at UniSA's Mt Gambier campus, 155 Wireless Road, Mount Gambier on Tuesday 22nd August 6.30pm.

Fast facts on health and health services in the Limestone Coast region

1 in 5 people on the Limestone Coast rate their overall health as poor to fair
1 in 3 have high blood pressure
1 in 4 have been diagnosed with depression.
First pass analysis of 2011 national workforce data shows there are far fewer health providers per 10,000 population in the Limestone Coast than metropolitan Adelaide – that is half the number of GPs, registered nurses and dieticians, and one sixth the number of psychologists.
Media contact: Michèle Nardelli mobile 0418 823 673 email michele.nardelli@unisa.edu.au