UniSA expertise delivers globally recognised Chinese language education for SA students
September 27 2016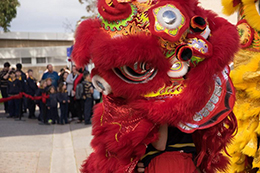 China's rapidly growing role in Australia's economic and strategic future offers enormous opportunities, yet very few Australians are proficient enough in Chinese languages to begin to be able to benefit from economic, educational and cultural links with the Asian giant.
Currently there are about 130 proficient adult speakers of Chinese in Australia of non-Chinese background yet last year only 400 year 12 students studied Chinese as a second language – 20 per cent fewer than in 2008.
Globally recognised experts in linguistic and cultural diversity in education, the University of South Australia's Research Centre for Languages and Cultures is leading the way developing the language and content curriculum for South Australia's first Chinese Bilingual School at William Light R-12 school.
English is taught extensively in China so for Australia to be able to engage and participate on a level linguistic, business and cultural playing field, we need an innovative approach to Chinese language education.
Associate Professor Angela Scarino and Associate Professor Kathleen Heugh, together with PhD researcher Anne Li, bring to the project truly unique expertise in linguistics, languages education, bilingual and multilingual education language and learning and are enormously excited to have been chosen to undertake William Light's curriculum and assessment development, evaluation and research, as well as teacher development.
"The development of South Australia's first bilingual school is both recognition of the linguistic and cultural diversity that surrounds us and the engagement that every Australian is going to have to have now and in the future with people who speak different languages and who see and respond to the world in different ways," Associate Professor Scarino says.
William Light School's bilingual program will initially be offered to Year 3 students, who will gradually move towards learning half of the curriculum through the medium of Chinese and half in English.
At the same time reception to Year 2 students will have a daily lesson of Chinese to prepare them to enter the bilingual program when they reach Year 3 and a lesson a day of Chinese will also be offered to Year 8 students.
All students, no matter their year level, will be able to learn Mandarin Chinese as a second language and engage with Chinese language and culture across much of the curriculum.
"We are the only research centre in Australia that focuses specifically on languages education and the role of language and culture in education and we also have strong expertise in relation to bilingual and multi-lingual education including in developing the professional learning of teachers," Associate Professor Kathleen Heugh says.
"Given our own interest in the way people learn and acquire languages, the relationship between language and content, and the way in which people interact with one another in the context of diversity, the opportunity that this project actually provides the RCLC as a research centre is also very exciting."
A ceremony celebrating William Light School receiving Confucius Classroom status was held recently with Shandong Province representatives taking part in demonstrations, workshops and school tours.
Minister for Education and Child Development, Dr Susan Close and His Excellency the Honourable Hieu Van Le AC.
Minister for Education and Child Development, Dr Susan Close, announced earlier this year that William Light R-12 School would be the State's first Chinese bilingual government school.
"Having the first Chinese bilingual school in our state is further developing our relationship with China, and presenting opportunities for sister-school relationships, and teacher and student exchanges in the future," Minister Close says.
As well as providing Chinese curriculum development in the selected content areas, UniSA's Research Centre for Languages and Cultures will be working in the areas of teacher training and the training of education administrators in bilingual and multilingual education.
"We know very well that you can't just take a program and insert it as a new intervention into a school because to be successful it requires the whole school community to engage with and contribute to the program," Assoc Prof Scarino says.
"It is an intricate development process that needs to occur but we know well from our research that the more the organic the process and the more that stakeholders feel their roles are being respected the more successful the school curriculum will be.
"Across many learning areas, it is hoped that children at William Light will be exposed to a variety of multilingual learning opportunities so that, from the learners' point of view, the two worlds will be dancing before them."
Media contact: Katrina McLachlan mobile: 0414972537 email: katrina.mclachlan@unisa.edu.au