PR internship to help blind children in Vietnam
September 11 2012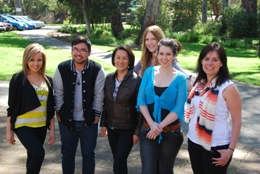 Five University of South Australia Public Relations students will embark on a PR internship with a difference when they head to Vietnam to volunteer at a blind school in Ho Chi Minh City later this month.
UniSA PR lecturer Kim Groves is taking five students to the Nhat Hong Centre for the Blind, where they will educate children and teenagers, as well as their teachers and carers, in new technologies and computer skills, marketing and communication, creating and designing pamphlets, writing articles, and setting up and writing blogs.
Groves, who was adopted from an orphanage in Vietnam when she was six months old, says the internship is designed to help a charitable organisation in a developing country, while also giving the PR students an insight into global public relations.
It was made possible after Groves won a competition by financial institution ING Direct called 'Map your future', which she entered as a PhD student, with a proposal to teach blind students in order to give lasting foundations in the areas of computer skills, English and music.
With the $10,000 prize money, Groves decided to create an internship which funded a third year Bachelor of Public Relations student to travel to Vietnam to assist her at the blind school. Student Beth Scott won this internship, while Groves also decided to partly fund the trip for another four students – Amy Weber, Josh Dalay-On, Annabelle Fabriczy and Ilona Schultz.
"This is really exciting for Beth and all of the students, and also wonderful for the blind school and for me to have some help," Groves said.
"We hope to raise awareness about the activities of the blind school in Vietnam and help them obtain some new equipment to assist with their learning."
Groves has never found her birth family in Vietnam, yet has continued to return to the country which she feels is her second home.
"I believe the children, teachers and the whole community surrounding the blind school are part of my Vietnamese family," she says.
Groves is calling on local businesses to provide donations and support for the blind school, as the school is in need of IT equipment and school materials.
"We are donating three iPads to the centre and will be teaching the school how to use this technology in learning," she says.
"We've also raised enough money through friends and family to purchase eight musical instruments, (Lamaze Octotunes) for the younger children.
"However, we're also looking for donations of laptops, school items, stationery, craft items, sports equipment and new toys for the children."
Fully-funded intern student Beth Scott, who hasn't been overseas before, is excited to be part of the trip.
"I have always wanted to travel and help out others less fortunate than ourselves," Scott says.
Scott's two previous internships have been at the Australian Red Cross and Smith Family.
UniSA Bachelor of Public Relations Program Director Dr Leanne Glenny says the internship is a unique experience for the five students which reflects on the diversity of UniSA's PR degree, where it can lead and the impact it can make.
To find out more about this Vietnam internship, like the Facebook page 'Visual-Eyes the future' or follow the blog 'Mapping the future'.
Contact for interview:
Kim Groves office 8302 4322 mobile 0403 971 182 email kim.groves@unisa.edu.au
Media contact:
Kelly Stone office 8302 0963 mobile 0417 861 832 email kelly.stone@unisa.edu.au