UniSA receives funding for the Innovative Manufacturing CRC
June 03 2015
UniSA is leading a project using augmented reality in the design of high-end instrumented facilities.
The Federal Government announced on 26 May 2015 that it is investing in two new Cooperative Research Centres (CRC's), including the Innovative Manufacturing CRC, of which UniSA's School of Information Technology and Mathematical Sciences is a major research partner.
The School, through UniSA's commercialisation arm UniSA Ventures, will be working with Jumbo Vision International to develop visualisation tools that will be used to design manufactured high-end instrumented facilities, such as command centres and control panels. This seven year project will build on the successful CADWalkTM venture between UniSA's Wearable Computer Lab, Jumbo Vision International and UniSA Ventures.
UniSA's Professor Bruce Thomas, Deputy Director of the Advanced Computing Research Centre and Director of the Wearable Computer Lab, will be leading the project that is concerned with using augmented reality in the design process to improve efficiency and reduce development costs.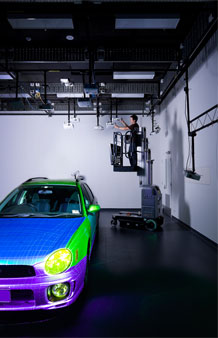 Multiple projectors are used to project details onto props.
The current process of design, development and decision-making is time consuming and limiting. Clients and developers require a large number of design meetings to go over concepts that are presented as either engineering drawings or 3D static renderings. The use of animations with fly-throughs and guided tours allow for a more immersive experience, but clients lack the tools to be able to manipulate the concept themselves.
"Translating designs of large scale artefacts, such as command control rooms, from paper diagrams to full size rooms, is difficult for almost everyone," says Professor Thomas.
"People want to be able to physically walk around a large room layout and view the design from many different positions. Sitting in chairs, touching control surfaces, seeing co-workers, all adds to the user's understanding of the design. These spaces are designed for teams of people, and these teams need to be part of the design process. Building full blown mock-ups is too expensive. Projector based augmented reality allows for simple white full size props to be draped with computer generated textures to show the details of the control surfaces."
This project investigates a set of novel tools that will allow clients to manipulate concepts to more clearly communicate their needs to their design teams. To do this, clients will be placed in a physical environment that emulates the final high end instrumented facility. The end users will be able to view the facility from any vantage point by merely walking. The configuration of workstations or controls on the panels can be modified by physically moving the white props or manipulating the virtual information projected onto these props.
This technology can be applied to a wide range of industries from engineering, building, airline, shipping and healthcare. In the next phase of development, the team will address how this new design methodology can be embedded into companies' current design processes and address issues of data transfer, operation semantics, workflows and process planning.
"This new design technology will lower the cost of designing these complex rooms by reducing the design time by an order of magnitude. There are a wide range of applications for this technology: call centres, hotel rooms, hospital operating theatres, home kitchen, and command centres for submarines. This new way of designing has the same potential to change industries as the 3D printer," says Professor Thomas.
Clients can view the props from any angle and can modify the panels by physically moving the props or adjusting the projected virtual information.