Children as Citizens Book Launch: 'Engaging with the child's voice in educational settings'
Engaging with the child's voice in educational settings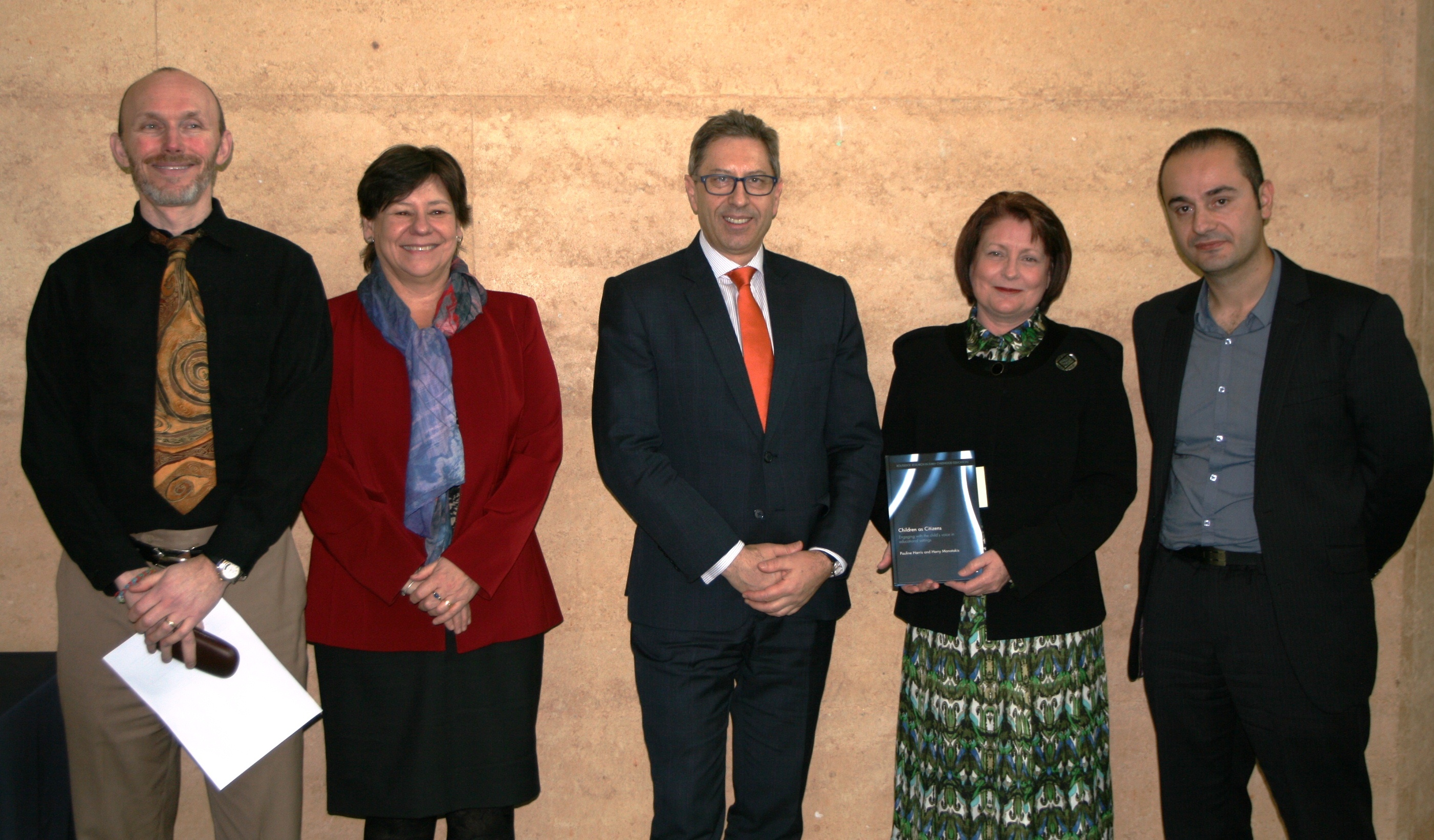 Professor Stephen Dobson - Acting Dean and Head of School of Education, Ms Megan Mitchell - National Children's Commissioner, Dr Norman Gillespie - CEO UNICEF Australia, Professor Pauline Harris and Mr Harry Manatakis.
A book written by Professor Pauline Harris, The University of South Australia and Mr Harry Manatakis, Department for Education and Child Development
Friday 8 August, 3pm - 5pm, H1-44, Amy Wheaton Building, Magill Campus
Launched by Dr Norman Gillespie, CEO of UNICEF Australia and Ms Megan Mitchell, National Children's Commissioner.

This book discusses how consultations with young children could signal a change of thinking about how children might influence policy and shape the development of a child-friendly state. Framed by Australia's national early years learning framework which focuses on children's belonging and identity, the consultations saw unique partnerships formed among children, educators, families and policy officers, providing ways in which children's voices may be engaged in educational spaces throughout the world.

Using a qualitative case study approach, these consultations were documented through observations, interviews, artefact collection and document analyses, allowing the authors to construct a framework for engaging children as citizens that is transferable to a variety of settings.

Following the book launch, a Public Seminar was presented by the book's authors.
This seminar drawed on the extensive research of the Children's Voices Project to explore authentic engagement with children and young people as valued active citizens. This Project is underpinned by principles of 'child as active citizen' and authentic dialogic encounters with children as citizens, including the very young. How these principles have been operationalised throughout key stages of engaging with children and young people as valued citizens and learners are described – from planning and preparing for engaging with children as active citizens, to implementing and documenting such engagement, to analysing, synthesising and reporting children's messages, through to tracking uptake and consequence. Case study examples are used to illustrate these stages, which have seen over 3,000 children and young people participating to inform: the review of South Australia's Strategic Plan, the development of a local government social plan, Whole of Government Policy, proposed legislation and Australia's first Child Friendly Cities Accreditation model led by SA. This research also has directly informed the development of a suite of resources for supporting children's participation as active citizens.