News and events archive
New report examines Islamophobia in Australia
A new report from UniSA reveals that one in 10 Australians display strong feelings of Islamophobia – that is, negative and hostile attitudes towards M...

Centenarians share the essence of life
Following your heart, exercising, and being happy in your work are among the secrets to living a long life, according to centenarians profiled in a special film project conducted by Resthaven and UniSA. The Celebrating Centenarians project wa...
Solar charging music lovers with creative designs
Festival-goers at the upcoming WOMADelaide event will be able to charge their phones with solar power thanks to a team of UniSA design and engineering students....
Division of Education, Arts & Social Sciences Research Day, 26 June 2015
The 2015 Division of EASS Research Day is an opportunity for us to focus on what makes research partnerships work, and to share thoughts and survey our achievements to date. The overarching theme for this year's Research Day is Engagements – international, national and local, with industry, organisations, institutions, and other universities.
Magill @ Twilight, 26 August 2015 4:00 - 8:00PM
Explore and experience UniSA's Magill Campus and facilities and find out more about degree and career options in Education, Psychology, Social Work, Communication, Media & Arts. To help you to discover more about your study options at Magill, this event will feature information sessions, interactive workshops, campus and facility tours, student short film showcase, live music student performances, food and entertainment.
Combined Arts Association Conference 21st June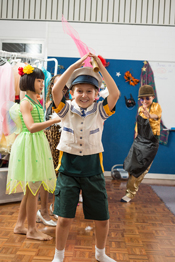 The University of South Australia's School of Education will host the Council of Education Associations of South Australia's (CEASA) 'We Are All Arts Teacher's conference on Saturday 21 June.
The conference will be held at the Magill campus and will be of particular relevance to Department for Education and Child Development (DECD), Catholic and Independent schools' teachers in the early primary and middle years (R-10).
'We Are All Arts Teachers' will provide attending teachers with the opportunity to participate in practical workshops run by arts educators from Australian Society for Music Education (ASME), AusDance, South Australian Association for Drama in Education (SAADIE), South Australian Association for Media Education (SAAME) and Visual Arts Educators South Australia (VAESA).
Teachers will also hear about the new Arts curriculum framework, the expectations around assessing and reporting in the Arts and how this impacts the design of learning in the Arts. Furthermore, the conference will provide the opportunity for teachers to meet in similar year level groups to explore relevant challenges and questions within the education sector in South Australia.
For further information and to register visit ceasa.asn.au
UniSA Masters of Design (Industrial Design) graduate wins 2014 Hills Young Australian Design Award.
UniSA Industrial Design graduate, Max Hughes, has won Australia's most prestigious design award, the Good Design Australia '2014 Hills Young Australian Design Award' for his computer gaming controller called 'Orby'.
In conjunction with David Hobbs from Flinders University, UniSA lecturer and DIA member Sandy Walker, and Industrial Designer and DIA member Andrew Whittaker from Fingo Design, Hughes has developed 'Orby' ­– a computer gaming controller that enables children with conditions such as cerebral palsy, to play computer games which help stimulate hand, arm and brain function.
The controller pivots around a central axis by using a simple and intuitive movable 'dome', which the majority of children pick-up straight away. The gaming controller also uses proximity sensors to detect whether both hands of the child are located on the haptic regions of the controller and sends vibrations through to the user's hands to give them tactile feedback.
Max's prize includes $10,000 and support from Hill's Lance Hill Design Centre and Hills D-Shop to take his design into manufacture and commercialisation.
Andrew Whittaker who also teaches in UniSA's Product Design Program, won the 'Housewares and Objects Category' at the Good Design Australia 2014 Awards with 'Heg Peg'
Emptying the battle zone: Symposium explores Australia's longest war
Hosted by the University of South Australia's International Centre for Muslim and non-Muslim Understanding (MnM) and theDefence Science and Technology Organisation (DSTO), the symposium will explore a number of key issues including Australia's security and strategic goals in Afghanistan, the impact of Australia's withdrawal and the ongoing instability in the South Asia region.
Shaping child protection in the 21st Century
A broader definition and understanding of what constitutes child abuse and a greater focus on tackling the risk factors that can lead to abuse, are key themes driving changes in the field of child protection, believes Australian Centre for Child Protection Director,Professor Fiona Arney.
The 13th Australasian Conference on Child Abuse and Neglect, on November 13 will see a total of 19 presentations being made by experts from University of South Australia'sAustralian Centre for Child Protection, on subjects ranging from parental impact on child emotional regulation, to interventions for children prenatally exposed to alcohol.
Domestic violence: the whole story
In a major push to find out how and to what extent domestic violence impacts women's lives and their ability to engage as citizens, the University of South Australia and the University of Western Australia are joining forces to reach out to women who have been, or still are, victims of domestic violence.
Early childhood education goes regional
The University of South Australia will offer its Bachelor of Education with a specialisation in Early Childhood in Whyalla and Mt Gambier for the first time in 2014.
The four-year degree prepares graduates to take up professional careers as preschool and kindergarten teachers and junior primary school teachers.
UniSA strengthens ties with Japan
UniSA's Hawke Research Institute, Prof Anthony Elliott and DVC Relph signed a Memorandum of Understanding with Keio University, considered the "Harvard" of Japan, for further collaboration in the social sciences.
---

UniSA and ME magazine 'Careers in Publishing Work Experience Day'
On Wednesday 24 April on the UniSA City West Campus many students were going about their normal day, but for some South Australian high school students it was not a typical day. After receiving over 200 applications for a Work Experience opportunity that Adelaide teen magazine, ME Magazine put on, 23 talented students were chosen to undertake various roles in publishing for a photo shoot. Aspiring models, photographers, fashion stylists, journalists, graphic designers, videographers and public relations students were included in the group.
Success in national architecture awards
Three architecture students are celebrating success after winning and being acknowledged in two student categories within the Australian Achievement in Architecture Awards. Three architecture students are celebrating success after winning and being acknowledged in two student categories within the Australian Achievement in Architecture Awards. Three architecture students are celebrating success after winning and being acknowledged in two student categories within the Australian Achievement in Architecture Awards.
Student meets PM at global conference
UniSA student Christopher Testa met Prime Minister Julia Gillard after being selected to participate in the United Nations Conference on Sustainable Development (Rio+20) in Brazil.
APY teachers celebrate success
Seven UniSA students from remote Indigenous communities celebrated reaching their goals when they graduated with teaching qualifications they intend to use in their own communities.
Emerging artists stand out
Twelve UniSA graduates were chosen to take part in the annual Helpmann Academy Graduate Exhibition, displaying a wide range of work in photography, animation installation and glass.
APY Lands UniSA graduates learn to inspire
On 28 March 2012, 7 students drawn from the Anangu Pitjantjatjara Yankunytjatjara Lands (APY Lands) and surrounding regions graduated from the Anangu Tertiary Education Program (AnTEP) which provides teacher education to Anangu students whilst they reside in their home communities. This unique program is another example of the UniSA's commitment to supporting Aboriginal and Torres Strait Islander communities.
Samstag scholarship success for UniSA student
Making your name in the art world is no easy feat, but one UniSA Master's student is off to a great start as the recipient of a prestigious Samstag scholarship, renowned as a 'golden passport' to professional success.
Exploring the brain at new neuroscience lab
Why do some people develop dementia but not others, and why do our cognitive powers change as we age? A team of UniSA researchers will be exploring these issues and many more at the recently launched Cognitive Neuroscience Laboratory at UniSA's Magill Campus.
Endeavour Scholarship to research teacher retention
Soon-to-graduate UniSA PhD candidate, Lisa Papatraianou, has been awarded an Endeavour Scholarship, allowing her to collaborate with British universities to research issues affecting teacher retention.
UniSA student rubs shoulders with royalty at international youth summit
UniSA Social Work and International Studies fourth year student Tessa Henwood-Mitchell recently returned from attending the second annual One Young World Summit in Zurich, Switzerland, where youth leaders met to discuss solutions to the world's problems.
Magarey medallist eyes a different prize
James Allan has had some notable and very public achievements, including not one but three wins in the prestigious Magarey Medal - the latest victory coming just a few weeks ago. But the North Adelaide footballer is on the verge of another, less high-profile achievement, as he nears completion of a double degree in human movement and education.
Student's coffee creation captures attention
Your coffee shop experience could change soon thanks to a UniSA industrial design student who has re-designed the coffee-making process. Master of Design (Specialisation) student Tom Pyrzakowski (pictured filming for The New Inventors), has created the 'vacuum bin', a radical re-design of the current knock-out bin that is used to knock out used coffee beans from coffee machines.