About the Jeffrey Smart Building
&nbsp Who is Jeffrey Smart?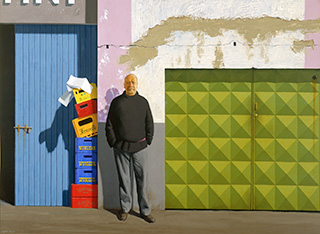 "Everybody gets inspired. We all have these moments. It just depends on whether you've got the ability to seize it."
In August of 2010 the University of South Australia secured $30 million from the Federal Government's Education Investment Fund towards the $95 million Participate@UniSA project, including a new Learning Centre valued at over $85m for the City West campus.
When work started on the site in 2011, archaeological remains were discovered. Structural remains of an 1838 house, landscape of the back yard of the 1838 house and an area displaying the early phase of brewer construction were all discovered. After working with Austral Archaeology Pty Ltd to preserve the remains, official construction started in January 2012.
Image: Jeffrey SMART, Self–portrait at Papini's (detail), 1984–5, oil and acrylic on canvas, 85.0 x 115.0 cm, © Jeffrey Smart
Why is it called Jeffrey Smart Building?
To honour the life and contribution of the great Australian artist Jeffrey Smart, the University of South Australia named this new learning centre, the Jeffrey Smart Building.
Jeffrey Smart was an iconic painter and accomplished draughtsman, graduating from the South Australian School of Art and Crafts (now a part of University of South Australia's School of Art, Architecture and Design). In 2011, Smart received an honorary doctorate from UniSA and in 2012 the University's Samstag Museum of Art presented the major retrospective Master of Stillness: Jeffrey Smart paintings 1940 – 2011 celebrating a lifetime of work. He sadly passed on 20 June 2013 (2013-06-20), aged 91, leaving an unprecedented legacy in Australian art.
Smart's unending quest for inspiration encapsulates UniSA's enterprising spirit, which is why we are so thrilled to name this new learning centre in his honour.
Building facts
The Jeffrey Smart Building has:
Over $8million worth of technology
5 Green Star rating
Approximately 1,747m² of paving
3,984m² precast concrete
99.6 tonnes of structural steel
the Lino stair case is the first of its type in SA, and the second in Australia
3,480m² of glass
227 tables
2273 chairs and ottomans
122 wireless access points
600 student PCs
16 Projectors
11 Interactive Whiteboards
61 Desktop Document Cameras
12 Ceiling Document Cameras
57 Security Phones.
All of these combined turns learning into an interactive and more fulfilling experience.