Critical Chain Project Management

In today's competitive marketplace, management at all levels is constantly under pressure to effectively managing uncertainty and scarce resources within a dynamic project environment. International Theory of Constraints expert, Lewis Trigger will draw on Constraint Innovation's Buffer Management methodology, known as "the critical chain approach ", an innovative and novel approach for applying safety buffers on a projects critical path.
In contradiction to traditional thinking, Constraint Innovation not only claims that individual task safety buffers don't assist in meeting schedules, they in fact hinder the meeting of schedules on time. The answer rests in the implementation of Project Buffers rather than Task Buffers which provides a cost-effective solution that focuses on the project's true critical path.
The workshop learnings will focus on Project Bottlenecks. The methodology is based on the building blocks of Constraint Innovation, in the 5-step process of:
­

Identifying the constraint (i.e. the Bottleneck)

Exploiting the Constraint (i.e. not wasting the bottleneck so as to get 100% use of the constraint)

Subordinating to the Constraint (i.e. Rearrange others to what you need to maintain 100% of the constraint)

Elevating the Constraint (i.e. Innovate to get greater than 100%)

Identifying the new Constraint - continual improvement loop.
This workshop goes beyond the single project to address the more challenging area of a dynamic multi-project environment. A powerful methodology known as Drum – Buffer – Rope will be taught. Drum – Buffer – Rope provides a system to stagger the commencement of projects in accordance to the pace of the overriding system constraint together with practical procedures that lessen the impact of poor multi-tasking.
The key to unlocking the answers to these challenges, is through effectively addressing your bottlenecks and constraints. International Theory of Constraints expert Lewis Trigger shares common sense, practical solutions drawn from the advanced management doctrine of Theory of Constraints to address the challenges faced in project management. This experiential one-day workshop will provide you with a deeper understanding of Theory of Constraints, and you will be immersed in activities that will build your competence and confidence for successful project management.
A good working knowledge of Theory of Constraints would be beneficial for attendees of this 1-day course.
Morning: Managing the "Critical Chain"
An introduction to the Critical Chain approach to effectively manage in a multi-project environment
The value and innovative uses of Safety Buffers on a project's critical path
The advantages of Project Buffers relative to Task Buffers
How Drum-Buffer-Rope (DBR) can assist in a multi project environment
Afternoon: Managing Project Bottlenecks
The five building blocks of constraint innovation are introduced, as these provide the steps for how to be effective as opposed to being efficient. These are:
Identifying the constraint
Exploiting the constraint
Subordinating to the constraint
Elevating the constraint
Identifying the new constrain
Improving your ability to meet project commitments: deliverables on time and within budget, meeting service levels within costs, reducing down time of key facilities and equipment.
Enhancing service levels, greater inventory turnover, shorten lead times and the ability to improve system performance without incurring additional costs.
Improve quality by focusing corrective and preventative actions on what counts most.
A shift in thinking from localised efficiency towards system effectiveness.
Practical solutions for overcoming uncertainty.
Focusing management efforts to where it counts most.
Allocating resources to where it counts most
Enhance team work and job satisfaction
Testimonials
---
Nick Strong
Manager - Performance and Projects, Cadia Valley Operations
Newcrest Mining Ltd
"Your course was excellent and delivered the outcome I was looking for. It has raised awareness and started the juices flowing for improvement around the site".
Andrew Meek
CEO
AWBell
"We completed training …. Since this time one month ago, the throughput of product through our production constraint has increased by exactly 50%."
Nick Porter
Senior Manager
Hill Defence Products
"This was one of the best structured training courses I have attended. Very relevant and the practical aspects were effective tools".
Stuart Clarke
Senior Director
Department of Agriculture and Food (Western Australia)
"Application of theory to practice, in real life projects that DAFWA personnel could understand the relevance. Excellent Lewis. As ever, a very professional and informative performance with the right amount of enthusiasm and humour to engage us in the application of this practical theory of improvement."
Steve Macdonald
GM
Albins
"TOC and your presentation of the subject have had a huge effect on our organization, and we use your methodology on a weekly, if not daily basis."
Dr Sarah Kelly
MBA Director
Business School – University of Queensland
"You are a natural teacher and story teller, Lewis. Your ability to communicate something that is in fact quite complex, in a way that we can immediately understand and apply, is genius."
This course is designed for professionals from all levels of management who are interested in continuous improvements. This may include:
Senior Project managers
Project Team Leaders
Project Management Office Staff
The course will be presented on 10 April 2019.
Course delivery will be at the UniSA's City West Campus, Adelaide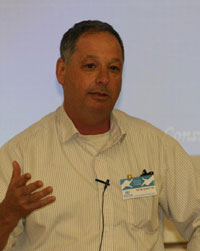 Lewis is a recognized international expert in TOC. Australian born, Israel resident, Lewis is an industrial engineer (MBA MSc), with over twenty five years of experience in applying Theory of Constraints (TOC) within the Israeli military's maintenance; engineering and logistics systems, within government and industry.
After completing his graduate studies Lewis went on to serve sixteen years as an officer in the Israeli Air Force, mainly in maintenance and logistics roles within both the combat operational base and HQ level. His experience in the Israeli Air Force, followed by holding senior management positions in the Israeli Hi-tech market, has provided Lewis with a wealth of knowledge and experience in Project Management Maintenance and Operation's. Today he heads his own company, based in Israel that provides Industrial Engineering Consultancy and Workshops to both the defence and commercial markets. For fourteen years he was awarded the contract to coach all the formal Project Management workshops for the Israeli Air Force and Land Forces as well as management training of maintenance programs. In addition, he teaches Management courses in a number of Israeli colleges including the prestigious MBA program at the University of Tel Aviv.
Over the last 17 years, Lewis has shared his expertise through his workshops to many leading Australian organisations such as Newcrest Mining, Iluka Resources, Schweppes / Asahi, Visy, Arnott's, The Australian Submarine Corporation, The Adelaide Health Services, the Spotlight Retail Chain, Dairy Farmers, Rosebank Engineering, AW Bell, Coopers Brewery, Government agencies at a Federal, State and Local level. His public workshops throughout Australia have been sponsored by the University of South Australia, QUT (Queensland University of Technology), The University of Queensland. More recently has expanded his activities to India.
Lewis holds a number of qualifications. His initial training was at the University of Queensland; however since then he has gained international experience including a Master of Business Administration from the Business School of the Hebrew University of Jerusalem and a Master of Science in Industrial Engineering from the prestigious United States Air Force Institute of Technology. He has been personally coached on Theory of Constraints by the theory's founder Dr. Eli Goldratt.
Tuition Fee: $995 pp. This course is GST exempt.
Early Bird Registration (before 22 March 2019): $895 pp. This course is GST exempt.
Additional discounts are available for attendees who attend UniSA's Theory of Constraints 2-day course from the 8 April - 9 April. For further details please contact Sandra Walker on 08 8302 0801 or email Sandra.walker@unisa.edu.au
Inclusions:
Pre-reading materials
Study notes and presentation handouts
Certificate of Completion
Exclusions:
Accommodation and travel expenses are not included. Assistance with bookings is available on request.
Cancellation Policy
The University of South Australia reserves the right to cancel this program at any time and issue refunds. In the event that an attendee cannot attend, a substitute may attend in their place. No refunds will be issued unless 21 days' notice is given in writing prior to the date of the planned program.
UniSA Business School, City West Campus, Adelaide CBD
Emphasis is placed on the active involvement of the participants, with a strong focus on their working environment. For part of the workshop, participants will be divided into workgroups, with each group being assigned a challenging area from at least one of the participants working environment. As we proceed with the learning, each group will be required to illustrate the practical relevance of the learning to their nominated case study. Exercises are extensively used, and group learning through open discussions is encouraged. Reliable case studies that have shown great success through the use of Theory of Constraints methodology are elaborated on throughout the workshop.
For groups of 12 or more this program can be tailored to achieve targeted learning objectives aligned to the business needs, or delivered in-house. Your organisation may consider bringing together like-minded business professionals to focus on a specific industry sector or market strategy.
For more information, please contact Sandra Walker, Program Executive Officer, Strategic Partnerships at Sandra.Walker@unisa.edu.au or +61 8 830 20801