Dr Ian Gould AM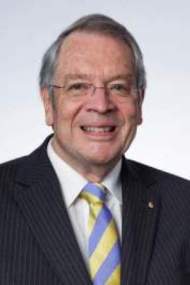 Chancellor
Qualifications
Awards
Professional experience
Current positions
Contact

Chancellor's event attendance
Please download and forward completed request proforma to Joanne Gatsios, Executive Assistant, (email: joanne.gatsios@unisa.edu.au)
Qualifications

BSc Hons IIA, conferred 1967 (Geology)
PhD, "Volcanogenic mineralisation in Silurian stratigraphy, Breadalbane district, NSW", conferred 1975
Awards
2003: Sir Willis Connolly Medal for excellence in communication in the technological sciences by the AusIMM and Barbarians
2007: Institute Medal by the AusIMM

Professional experience

Dr Ian Gould commenced as Chancellor of the University of South Australia on 1 July 2008.
A geologist by profession, Dr Gould has forty years experience in the minerals industry in diverse and senior positions, mainly within the CRA and Rio Tinto Group, in which he was Group Executive for Exploration and later for Research and Development before becoming the Managing Director Australia, and then Group Managing Director for Normandy Mining Ltd.
Educated at the Sydney Technical High School and University of Sydney, Dr Gould has a PhD in geology.
Dr Gould has based his career upon a strong scientific interest and belief in the importance to the community of the mining industry, and has been a keen and early proponent of excellence in environmental management for the industry.
In 2007 Dr Gould became a Fellow of the Australian Academy of Technological Sciences and Engineering, and in the same year was awarded the Institute Medal by the Australasian Institute of Mining and Metallurgy, of which he is also a Fellow and past President.
He has in-depth experience in corporate governance having served, mainly as Chair on a range of boards including the Australian Institute of Marine Science, the Australian Biological Resources Study, the CSIRO Minerals Sector Advisory Committee, the South Australian Resources Industry Development Board, the Royal Flying Doctor Service and St Andrew's Hospital.
He is a professional with long experience in governance and leadership and a comprehensive understanding of the nexus between education, innovation, the community and business.
Current positions

2008: Chancellor, University of South Australia
2006-current: South Australian Minerals and Petroleum Experts Group (SAMPEG): Chair
2005-current: CSIRO Minerals Sector Advisory Committee: Chair
2002-current: St Andrews Hospital Board (Adelaide): Chair
2001-current: SA Resource Industry Development Board
1998-current: Royal Flying Doctor Service of Australia, Central Section, Board Member, Vice President

Contact
Telephone: +61 8 8302 0068
Fax: +61 8 8302 0501
Email: chancellor@unisa.edu.au